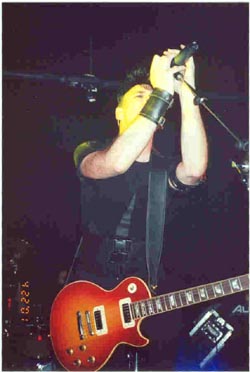 Numan returned to the Twin Cities for the first time since the Telekon tour stopped in Saint Paul, and even though that is far too long, it was good to see him again.
Fans of all ages turned out to fill the First Avenue venue to near capacity, and were treated to an excellent night of music. Grand Theft Audio were ok. The singer spent most of his time talking to the audience. Gwenmars were pretty good, and their CD sold well at the venue.
Then Numan came on.
The place was electric, and the crowd really got into the gig.
The sound quality was very good, his voice was clear, keyboards were a bit soft at the front, but I'm sure they were good to hear at the back of the hall. Both old and new songs were very well received, and it was good to see how many people sang along with the new stuff!!
I have lived in London for many years and seen him many times, but never this close and this energetic.
The show was s great success, and everyone I spoke to after the show, thought it was one of the best gigs they've seen in years.
Personally, I rate it as one of the best gigs I have seen of ANY artist, and I cen only wish for him to return to the US (and Minneaplis) as soon as possible.
Numan rocked, and so did we.
10 out of 10
Erik Vermeulen ([email protected])