Saturday 21st September, London Ocean
This is 2002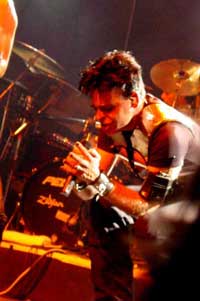 Having been to the Liverpool gig the previous night , I knew that London was going to be kickin and I was not to be disappointed.I have to say I'm fed up reading articles from fans who I'm convinced are never happy unless they can find faults with Gary , his music and live performances.
For god's sake , this is 2002 and not 1979 so try moving on , just accept it that Numan will not play lavish shows anymore to massive audiences in great venues but as with previous articles , I'd rather watch him in smaller venues that are full with a great atmosphere , than half empty theatres.
I for one enjoyed the Lomax but accept that the sound could have been better and I wish he'd check out the Royal Court which is very similar to Shepard's Bush , and having seen band's such as The Cure , The Cult , The Sisters , Souxsie etc there , can definately recommend it.(maybe next year?)
I've been to Ocean before and like it as a venue and for me it was a great night , Numan was well up for it and the crowd responded which again was a positive.No doubt the arguments will rage on about the set list but I thought it was well balanced and would have paid the entrance fee alone just to hear OD Receiver. Let's just be happy for the man, happy that he;s still doing it all these years later , happy that he now has finally received some credibility after all the slagging and look at the positives for a change.
I'll finish my "rant" by commenting on how good it was to see such a mixed age and style , particulary at the Lomax and how 3 of my non Numan friends/family thought the gigs excellent and would definately go again Carry on Gary !!!!!!!
Over and out
Buzz
JOHN HUGHES
Moaning Minnies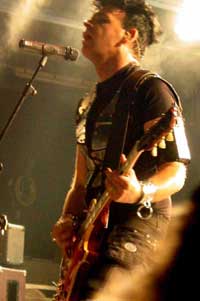 I for one don't know what all the moaning is about. I thought the venue was great, the sound was absolutely superb - crystal clear and crisp.
Gary sounded great, and there were a few surprises and a nice new spin put on a couple of old songs like 'Fragile'.
It was good to see Gary playing keyboards again on a couple of songs. And on top of all that, the Guitarist showed us all his fab bod...which meant I didn't know whether to watch Gary or drool over the Guitarist, but there you go.
The strangest thing was having some woman prod us in the back and say "can you move - we were here first" after we moved (not pushed mind) through the crowd....I felt like pointing out it was a rock gig and not a Val doonican concert.
Gary does attract a load of moaning minnies for some reason...as evidenced on this site far too often!
Londinium


Same Set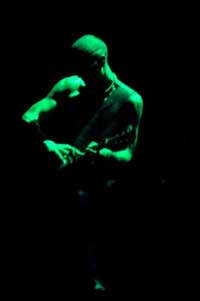 The venue was very disappointing. Sheperds Bush Empire is better. For those of us that travel quite a way to attend these gigs expect a little more than the same set of songs and performance.
The lighting was probably the worst i have seen in a long time.We could hardly hear Gary. Please Gary, let the band come on first then make us beg for a minute or two until you come on stage, it all part of what we love about coming to your concerts.
The venue was only 3/4 full and all this after having got a recent top 30 hit. Oh dear.....
On a more positive note, Gary looked fab. Out of ten, probably 5.
Will i go and see him again, well of course and hope things improve alittle.
Rob
Fucking Furious
Im only emailing because Im so fucking furious at you sad moaning bastards.
If you dont like it dont go, leave some room for new fans.
Get your tattoos lasered and get a life. Saturday was amazing, Gary can play whatever he wants for fucks sake.
What Id love to know is what else you listen to...if anything, or have you been trapped in your rooms for 23 years miming to AFE in your eyeliner
?Life's good out there...come into the light and relax for fucks sake!

Jacquie Boyd
Negative Monkeys
Oh my you negative monkeys..i thought the Big G was on top form..great set list..sound was great..the fans that were standing with us upstairs were some of the nicest people i have met in years!
Roll on 2003 so we can all move on like the man has himself..heres to the new..and if not a new twist on the old! Well done that man!
Danno..the lumpchicken returneth..or is it the dilly dog?

SOUND
JUST A POINT ABOUT THE SOUND. I HAD A GOOD POSITION IN THE MIDDLE OF THE FLOOR. BUT WHEN I MOVED BACK TOWARDS THE BAR THE SOUND GOT WORSE. THE SPEAKERS WHERE SUSPENDED FROM THE CEILING. SO THE SOUND WOULD NOT TRAVEL RIGHT TO THE BACK AS WELL BECAUSE THE BALCONY BLOCK THE SOUND. NOBODYS FAULT THERE. SHOW WAS VERY GOOD. SONGS WELL PERFOMED. AWAITING THE NEXT ONE.

DAVE
Were we watching the same Game ?
Re below reviews - As they say in football - we're we watching the same game?
Numan was great, enjoying himself. A fantastic night. The only criticism of the venue would be 'how do you get out in an emergency?' and where's the car park.
Nothing wrong with the set list this time - The best of Pure, some fantastic oldies and a few we haven't heard for ages. The guitar sound was great, as it should be - higher in the mix than on the album. Some great keyboards sounds as well. I got what I wanted and an old fan who came with me, who hasn't turned up for years, was impressed and will return - so will I.
Bobber
Better than Liverpool
I have to disagree with the (so far) negative comments about the London show on here.
The sound (and venue) was much better than in Liverpool the previous night and the crowd were certainly up for it alot more.
It's just a shame that the support acts were pretty poor, particularly the second band, who sounded like a 3rd rate KoRn or somesuch Nu-metal bollox.
Scardwel

Lacked Sublety, Warmth or Atmosphere
A brilliant start, M.E. sounded tight and powerfull, however it went downhill from there.
Numan needs to learn that just because you have an excellent guitarist doesn't mean you have to have him at max volume in every song - Where were the synths? The show lacked any subtlety, warmth or atmosphere, it was just a tour de-force.
What on earth was the that terrible echoey drum sound that was used in My Jesus and ended up it at least another 3 songs?
I'm not really bothered that he didn't perform any new songs, some of the old ones done in a sympathetic style would have been OK.
Where does Numan go from here?
I really don't care anymore.
AndyFX
Sort Out the Set List
Gary looked well hard and lean.
Band were tight.
Venue is a dump.
Lights were ok.
Set list was ++predictable.
Great company and a great gig. Just sort that bloody set list out...........PLEASE!!!!!!!!!!!
Wiggy