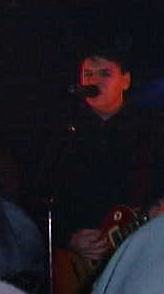 Well after Brixton,i thought to myself...can he do better?
After waiting for what seemed a lifetime the support act arrived on stage[st,eve],very moody and somewhat pretenious turned out to be very good and the singer was rather tasty.
Then we waited with baited breath and loads of yells for the man himself...finally the opening chords of PURE and Gary was on stage.
He looked as cool as ever and very much in control.....the band were brilliant and alot tighter than Brixton,Gary's voice was on top form and he gave us his everything....all in all a top class performance,it does'nt come much better than this.
For me the surprise track was EVERYDAY I DIE and the downer was there was no EXILE tracks,but apart from that the gig was genius,certainly the best i have ever experienced!
Good to see so many NUMANOIDS under the one roof and i'm sure there were some i reckonised from the Brixton show...good on u all for coming to Belfast.
After the gig we all went round to the tour bus and begged for autographs...
Gary did'nt show but Gemma got us sorted,she told us he was knackered,which i could well beleive after a show like that!
To sum up, all i can say is...COME BACK SOON GARY U ARE THE BEST!!!!!
Rik Gay