Gary Numan at Q Awards Posted Monday, October 26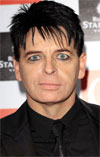 Gary Numan was spotted sporting a new hair do at the Q Awards in London today. Gary presented the Best New Act award to White Lies..


---
Gary Numan to work with Trent Reznor Posted Wednesday, September 23
Gary Numan has confirmed that he is likely to be heading into the studio to write some material with former Nine Inch Nails mainman Trent Reznor.

Numan said "I know he wants to carry on doing music things. We went out a few days after the LA gigs with a few other people and the way he puts it is when the dust settles, I think he means his marriage, but I think he's going to be pretty busy for a while, so it'll either be later this year or early next."

It will "Probably be just a few songs to start with and see how it goes on. It'll be cool".


---
Numan Surprise Guest at NIN Show Posted Thursday, July 16
Gary Numan joined Nine Inch Nails onstage during their London Show at the O2 Arena last night. He joined them for the Nine Inch Nails cover of "Metal" before going on to play "Cars" with the band. The surprise leaked out over the Internet shortly before the gig due to the sign on Numan's dressing room door.


---
The Pleasure Principle Tour Posted Saturday, July 11
Gary Numan has announced that he will be undertaking another retro tour in 2009. This tour will focus on his classic and influential album "The Pleasure Principle".

The following dates have been confirmed..

The Pleasure Principle Tour 2009
Nov 17 Brighton Dome
Nov 18 Southampton University
Nov 19 Cardiff Sub 29
Nov 20 Sheffield Corporation
Nov 21 Manchester Academy
Nov 23 Cork Pavillion
Nov 24 Dublin Tripod
Nov 25 Leeds Academy
Nov 26 Edinburgh Picturehouse
Nov 27 Glasgow ABC
Nov 28 Sunderland The Campus
Nov 29 Norwich UEA
Nov 30 Wolverhampton Civic
Dec 1 Cambridge Junction
Dec 2 Nottingham Rock City
Dec 3 London Indigo.
Tickets for Brighton, Cardiff, Manchester, Edinburgh, Sunderland, Norwich, Wolverhampton, Cambridge, Leeds, Sheffield and Nottingham are available Here. Tickets for Glasgow and Dublin are available Here.


---
New Numan Gigs Posted Thursday, February 05
Gary Numan has confirmed new shows at the O2 Academy in Liverpool on April 24th,O2 Academy Sheffield on April 25th, O2 Academy Bristol June 10th and the O2 Academy in Oxford on June 11th, tickets are now on sale, Click Here for further details.


---
New Gary Numan London Show Posted Saturday, January 24
Gary Numan has announced a new show which will take place at Shepherds Bush Empire in London on July 25th 2009. The show takes place the day before Gary headlines the Waregem Gothic Festival in Belgium. Tickets are available now, Click Here for further details.


---
Here In My Caravan Posted Sunday, January 11
Gary Numan has topped a poll of people you never thought would be caravanners, Metro Newspaper announced the top five...

Gary Numan, singer songwriter

Yes, one of the kings of gothic rock is a dedicated pioneer of caravanning. We're not sure but we suspect his van is black inside and out.

Katherine Jenkins, popera star

Who knew attractive, rich opera singers hung out in windswept, muddy fields in cold, oversized cars? A new reason to hit the roads.

Jarvis Cocker, former Pulp frontman

Caravanning is often regarded as a pastime of the elderly so maybe Help the Aged makes more sense after all.

Helen Mirren, The Queen actress

Classy and Caravanning aren't supposed to go together but Ms Mirren proves it does. The thinking man's caravan?

Patsy Palmer, ex-Eastender star

When Patsy's character Bianca Jackson married Ricky Butcher and 22 million people watched no one thought they would go on honeymoon in a caravan. And you can get the other holidaymakers would soon get sick of "Rickaaaaaaay!"


---
Numan to Play Golden Plains Festival Posted Wednesday, November 05
Gary Numan will be playing at the Golden Plains Festival in Australia which takes place between 7th and 9th March 2009, other acts also confirmed for this festival include Mogwai, Tony Allen, Black Mountain and The Drones.


---
No Greatest Hits for Oz Posted Wednesday, October 01
Gary Numan has warned Australia not to expect any of the old Numan classics during his Australian Tour in 2009.

'I wouldn't want people to come along to the gig thinking they are going to get a nostalgia set' he said.'That is not what I am doing at all. I think there is an opportunity to let people know I've got old but I'm still alive. I'm just going to reintroduce myself to people as what I am. I am not introducing people to what I used to be'.


---
Gary Numan Australia Tour Posted Tuesday, September 23
Gary Numan is to tour Australia next March for the first time in 29 years.

The current dates are :

March 2, Brisbane, The Tivoli
March 5, Sydney, The Enmore
March 7, Melbourne, The Forum.


---
Ladytron & Numan Prepare for Magic Loungeabout Posted Thursday, August 28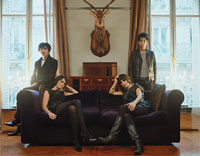 Ladytron are looking forward to their slot next to Gary Numan at the Magic Loungeabout, a boutique festival that looks to be a great day out for electronic music fans this weekend.

Ladytron keyboardist Daniel Hunt said 'We're performing between Gary Numan and Nouvelle Vague, which sums up our sound quite well'.

Since the release of their new album, Velocifero, this summer, the band have been peddling a slightly darker sound.

'If someone only heard Ghosts, our first single from the album, they'd get a different view of us,' says Hunt. 'The album isn't that far removed from what we have been doing in the past, it's just an evolutionary step forward. The next single, Runaway (released next month), is more representative of Velocifero as a whole. People who have seen our show are taken aback by how much heavier the album is live' Hunt states. 'We're not content with sticking a backing tape on and trying to recreate the album. We wanted something that pushes the experience further.'

Gary Numan is expected to play the same crowd pleasing set he performed at the recent Wickerman Festial, a set packed with the Numan classic tracks - Cars, Are 'Friends' Electric ?, Metal, Films, M.E., Down in the Park and even Noise Noise.
Tickets are also still available for Gary Numan's solo concert at O2 Indigo2 on September 7th. Click Here for further details.


---
Perfect Day Cancelled Posted Wednesday, May 21
The Perfect Day Festival and Garden Party at Bowood House in Wiltshire has been cancelled. The festival had booked Gary Numan to appear alongside other eighties acts such as The Human League, ABC, Tony Hadley and Go West.


---
Numan confirmed at Mighty Boosh Festival Posted Sunday, May 18
Gary Numan has been confirmed as one of the first music acts to perform at the Mighty Boosh Festival, which takes place at the Hop Farm in Kent on the 5th July.

The organisers announcement stated "widely known for his chart-topping 1979 hits "Are 'Friends' Electric?" and "Cars" as much as he is for his odd-ball appearance and genre-hopping experimental tracks, Numans influential signature style has been classified as everything from experimental, synthrock, synthpop, dark wave, new wave, industrial rock and post-punk, making him the perfect act to accompany the equally experimental and eccentric Mighty Boosh boys. Garys legacy speaks for itself, and of course the boys are thrilled at his confirmation. Noel states; "Having Gary on board is mental! He is a hero of mine and was always a first choice, having him perform at our festival is almost surreal"..


---
Numan & Ladytron at Magic Loungeabout Posted Thursday, May 08
Gary Numan and Ladytron are headlining the new Magic Loungeabout festival on 30th August within the buildings and landscaped gardens of Newburgh Priory.

The festival is billing itself as an electronic event with soulful, folky, electronica during the day and at night they are presenting two of the biggest electronic acts from the past and present.

It's a family event, featuring fresh produce from a local farmers market, and a creche/play area with activities including magician's and face painting.


---
Gary Numan's Perfect 80's Day Posted Saturday, May 03
Gary Numan will be playing in another 80's pop music spectacular on 26th July 2008. Perfect Saturday boasts acts from the 80's to the naughties with The Human League, ABC, Tony Hadley and Go West, Ben's Brother, BassHunter, and Royworld.

The Perfect Day Festival and Garden Party at Bowood House in Wiltshire is a new family friendly festival claiming to be the best day out this summer with a warm, welcoming atmosphere.

Friday Night includes a double headliner with The Feeling and the amazing Robyn, plus support from, among others, the super cool Booty Luv, as well as Reverend and the Makers.

Sunday is a Garden Party special with a mellow mix of jazz, folk, and good old rock n' roll, featuring the legendary Joe Brown, the lovely Kate Rusby, Beth Rowley, Jonathan Ansell of G4 fame, Teatro, plus firm Festival favorites Martha Tilston, Sheila Chandra and The Blessing.


---
Beggars Banquet Label Closes Posted Wednesday, April 30
Beggars Banquet, the label responsible for Gary Numan's most successful releases closed today. The closures comes as part of a new restructuring plan adopted by the Beggars Group, the UK collective that until today housed such labels as Rough Trade, XL Recordings, 4AD, Too Pure and Beggars Banquet.

The UK label was founded by record shop owners Martin Mills and Nick Austin back in 1977. During its life, it has also been home to such highly acclaimed acts as the Fall, the Go-Betweens, Bauhaus/Love and Rockets and Tindersticks.


---
Gary Numan Headlines Folk Festival Posted Wednesday, April 02
Gary Numan has been announced as a surprise headliner for the folky Wickerman Festival.

Gary's involvement in Wickerman, on July 25 and 26, is a huge change in music style for the festival known for its folky grass-roots vibe.

But artistic director Sid Ambrose said: "Gary is an iconic act, whose pioneering emotive electronica has stood the test of time and influenced a whole spectrum of contemporary musicians. The Wickerman Festival is very proud to have him headline the main stage on Friday night."



---
Numan prefers "worms" to Nostalgia Tour Posted Sunday, March 16
Gary Numan was quoted in The Mirror last week as claiming that he would rather "eat worms" than go on an '80s nostalgia tour.

He told The Mirror: "Me? Join in on the '80s revival? I'd rather eat worms. I've absolutely no interest in going back to the '80s.

"I was there the first time so it's got nothing new to offer. I've always refused to do anything connected to the '80s, any TV shows or retro tours, and I play very little old stuff at my gigs.

"That would be looking backwards and I've always been more interested in what's happening tomorrow."



---
Eighties Extravaganza at Bestival Posted Saturday, February 23
Gary Numan will be appearing in the Friday Night Lineup for the Bestival Festival, a night the organisers are labeling an "Eighties Extravaganza"

Indie legends My Bloody Valentine are returning after a 15 year break to headline the night, with Aphex Twin second on the Bill.

Eighties pop legends The Human League will then play an exclusive set, alongside Gary Numan.

Even cockney knees-up merchants Chas & Dave will be rolling out the barrel over the weekend.



---
Gary Numan to play Bestival Posted Friday, February 22
Gary Numan has been confirmed for the Bestival festival which takes place at Robin Hill Park, Isle Of Wight, from 5-7 September.

Others big names playing over the weekend include Aphex Twin, The Breeders, CSS, George Clinton And Funkadelic/Parliament, The Human League, Pendulum, 808 State, Foals, Lee Scratch Perry and The Wedding Present.

Tickets cost £130 for the weekend.



---
Replicas 2008 Tour Edition Posted Monday, January 21


Gary Numan is re-releasing his classic 1979 album Replicas to support his 2008 Replicas Retro Tour.

This new edition of the album contains an extra bonus disc featuring previously unreleased early versions of these classic songs.

The full tracklisting is

Disc one (Original Release)

1. Me! I Disconnect You.
2. Are Friends Electric?
3. The Machman.
4.Praying to the Aliens.
5.Down in the Park.
6.You are my Vision.
7.Replicas.
8.It Must Have Been the Years.
9. When the Machines Rock.
10.I Nearly Married a Human.
11. We Are So Fragile.
12. Do you Need the Service.
13. I Nearly Married A Human 2.

Disc two (Early Versions)

1. Me! I Disconnect From You.
2. Are Friends Electric?
3.The Machman.
4. Praying to the Aliens.
5. Down in the Park.
6. Do you need the Service?
7. Only a Downstat.
8. We Have a Technical.
9. You are my Vision.
10. Replicas
11. It must have been Years.
12. When the Machines Rock.
13. The Crazies.
14. I nearly married a Human 3

This album is now available to preorder from Amazon at £8.98, HMV at £8.99 or Play at £12.99.


---
Gary Numan - I Don't Really Listen to Music Posted Friday, January 18
Gary Numan is featured in Todays Independent Newspaper, being interviewed about his cultural life..

Books

Reaper's Gale is the seventh volume of Steven Erikson's fantasy series, Malazan Book of the Fallen. It's hard work, because everything interconnects but nothing is explained. Sometimes you are four books in before something in the first book becomes clear. The other book I'm reading is Night of Knives: a Novel of the Malazan Empire by Ian C Esslemont. They both apparently created the fantasy world in Erikson's books and now Esslemont is writing offshoots of the main story.

Film

I can't watch supernatural films as it unsettles me, especially since I moved to an old house surrounded by woods, near Tunbridge Wells. I have a strong belief in ghosts and I don't want those fears encouraged. I saw a real ghost, as clear as day, at Piccadilly Circus Underground station when I was 17. I'm fascinated by haunted stuff, but not in my own house. I don't like films that are overly violent, either – I can't watch rape. As I've got older, the amount of films that I will see gets less and less because so many things upset me now. I like blockbusters. My wife doesn't like comedy, so our choice is a bit narrow. I went to see I am Legend, which was fantastic.

Music

I don't really listen to music. We have music on if we have a party: Depeche Mode or Nine Inch Nails – not particularly happy, dance sort of music. If I sit down in the evening to relax, music is the last thing I'd put on. I can't think when music is on. A lot of what I do involves thinking about the things that I then write songs about. I need quiet. Most of my songs were written in a car, but that doesn't happen now. My car is a cacophony of screams and kids being told off. My rate of work has slowed down since I've had children, although they bring good things to life, too!

Theatre/opera

I went to the stage version of The Lord of the Rings. I don't understand opera. I'm more likely to see smash hits like Stomp! – a combination of percussion, movement and comedy – than Shakespeare..


---
Gary Numan Synth-Nightmare Drones Posted Friday, October 12


Radiohead have shaken up the traditional music industry with their new album "In Rainbows", not only has it been released in Gary Numan's new format of choice, Download Only, but they are also giving the fans the chance to pay what they think it is worth.

The album itself has been praised by Rolling Stone from the "Gary Numan synth-nightmare drones of "All I Need" and "House of Cards" to the "fragile lovers-rock ballad closely resembling Dusty Springfield's (and the Byrds') 'Going Back.'

The Rolling Stone reviewer paid $5.27 for his copy, in honor of his mom's birthday.

What fans would have paid for "Jagged" if Numan had taken this route ?


---
Leather Sea Digital Edition Posted Thursday, July 26


The Ade Fenton vs Gary Numan single release "The Leather Sea" has been delayed until 30th July.

A Special Digital Edition of the single which lasts nearly 15 minutes is now available to pre-order online.

The Digital Edition track listing is

01. The Leather Sea (radio edit) 0:03:43
02. The Leather Sea (ade fenton electro mix) 0:06:22
03. One Day (extended version) 0:04:51

You can obtain this Special Digital Edition for just £1.77 by clicking here.


---
The Leather Sea Posted Sunday, June 24
The new Gary Numan vs. Ade Fenton single, 'The Leather Sea', will be released on July 23rd 2007, through Submission Records/Universal

CD-1 features 2 tracks:
The Leather Sea (Radio Edit)
The Leather Sea (Ade Fenton Suicide Mix)

CD-2 features 3 tracks:
The Leather Sea (Album Version)
Melt (Ade Fenton Remix)
Healed (previously unavailable on CD).

A digital download version of the single will also feature the following tracklisting:
The Leather Sea (Radio Edit)
The Leather Sea (Ade Fenton Electro Mix)
One Day (Extended Version) 4:51.


---
Healing Back on iTunes Posted Monday, April 30


The Gary Numan & Ade Fenton EP entitled "Healing" is now available again on iTunes. The EP still features four tracks, Healing, Healing (Alternate Mix), Healing (Stripped Mix) and Healing (Psycho Mix). The price has now increased from £1.49 to £2.37, although individual tracks can be downloaded for only 79p each. You can download the EP by clicking here.


---
Numan Withdrawn from iTunes Posted Thursday, April 19
iTunes have withdrawn the Healing EP from distribution, it will now be available on 29th April. After decades of less than perfect Gary Numan single distribution in high street record stores it appears the tradition is still alive and well in the digital era.


---
Numan Healing EP on iTunes Posted Tuesday, April 17
The Gary Numan & Ade Fenton EP entitled "Healing" has just been released. The EP has a running time of over 20 minutes and features four tracks, Healing, Healing (Alternate Mix), Healing (Stripped Mix) and Healing (Psycho Mix). You can download the entire EP for just £1.49 by clicking here.


---
Fenton/ Numan Album Posted Sunday, March 25


Ade Fenton releases his new album entitled Artificial Perfect on May 7th. The album features Gary Numan vocals on four tracks. You can see further details by clicking here.


---
AC/DC Win The Race Posted Monday, November 13
Brian from AC/DC won the Sky One Reality Show "The Race" on Sunday, with Gary in 2nd, and Jenny in 3rd.


---
Numan Second Favourite Posted Friday, November 10
After winning yesterdays race Gary Numan has now moved joint second in the betting alongside Les Ferdinand at 4 -1. Brian Johnson from AC/DC is now the 9 - 4 favourite to take victory on Sunday..


---
Numan Now 6-1 Posted Thursday, November 09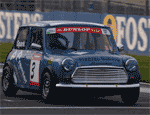 Gary Numan has taken a slide in the betting after some aggressive driving in the Mini Race took him straight off the track before slipping back on facing the wrong direction, and narrowly avoiding a Mini pile up.

Numan recovered well and ended the race in fourth position, but bookmaker Paddy Power reacted by lengthing his odds to 6-1 after the slip up.


---
Numan wins First Race Posted Tuesday, November 07


Gary Numan won his first race on the Sky One reality TV show "The Race". Gary, who raced the ex Atomic Kitten star Jenny Frost, faced the most demanding challenge as Jenny fought her way around the track, but a composed drive from Numan won the day, with Jenny running wide at the final corner.

Despite the win Numan's time was compromised by the battle and he ended up down the leaderboard.


---
Lose The Race and Your History Posted Wednesday, November 01
Eddie Irvine has been displaying fighting talk ahead of the Sky One reality show, The Race. "Girls are good at making breakfast and guys should be better at driving. If these guys lose to a bunch of girls that's it – their lives will be history and you won't be seeing me in Europe again!"

If the competition isn't enough to fray the nerves, the celebrities will be living together for the week in a purpose-built compound situated within the confines of Silverstone. They'll have all the comforts of custom-built luxury buses, but with the cameras following them here as well viewers will get to see how much heat they carry with them away from the circuit.


---
Sky One The Race Update Posted Sunday, October 29
An additional half hour show called "The Pit Stop" will air on Sky Three after the end of each Sky One show. Iain Lee takes a behind-the-scenes look at the event providing viewers with extra insight, exclusive footage and previews of the next day's challenges.

In the first show each celebrity will have to obtain their Association of Racing Drivers Schools certificate (ARDS) to qualify them for the challenges ahead and ensure they have the necessary skills to cope.

From then on each team member will line up for a main event where one driver from each team will step forward to take part in a one-on-one driving duel, the Rev Head Challenge. They will start with Karts before progressing through Mini Sevens onto Formula Fords.


---
Gary the Goth Posted Sunday, October 29
Gary Numan features in an article about Goth in todays Sunday Times.

"Most people I know who are considered goths seem to deny it," says Gary Numan, whose recent forays into dark, industrial rock have won him a new generation of fans. "They get really annoyed. Then there are the people who look goth but don't like that music. Personally, I think it's a pretty cool look, and I like a lot of the music."

Numan is surprised he is now being labelled a goth himself. "I think it's more to do with the lyrics on my last four albums, which have had a strong anti-God theme," he says. "It seems ridiculous to me, but the music I'm doing now seems to appeal in that way.".


---
Numan Confirms The Race Posted Wednesday, October 25
Gary Numan has now confirmed that he will be appearing on the Sky One Reality Show "The Race", saying "I'm looking forward to this and terrified in about equal measure".

The show airs on Sky One and Sky One HD from Monday 6th November each night at 10pm culminating in the Finale on Sunday 12th November at 10pm.


---
Numan on The Race ? Posted Sunday, October 22
Its rumoured that Gary Numan could be part of Sky's new reality TV show "The Race". The show, which takes place in November, is similar in concept to their hit reality show "The Match", with celebrities fighting to take part in a F1 style race instead of a Football Match.

Numan hasn't been offically announced as a participant, but his 1979 hit single "Cars" makes him a great fit for the show, and the publicity should help Numan sell the final tickets for his retro Telekon shows which take place in December.


---
Updates Posted Friday, July 14
Gary Numan's support slot for Depeche Mode in Lisbon, Portugal on July 28th has been cancelled.

The "In a Dark Place" single will now have a full CD Single release, but no new tracks will be included. You can see further details by clicking here.


---
Latest Rumours Posted Tuesday, June 06
The US gigs hit by Numan undertaking a last minute support slot for Depeche Mode in Portugal are currently being rescheduled for August.

The "In a Dark Place" single may now be downgraded from a full CD Single release, and will only be available as a 7" Vinyl and an MP3 download in July.


---
Single Rescheduled Posted Thursday, June 01
Gary's first single release from his latest album, "Jagged" has been rescheduled. The "In a Dark Place" single is scheduled for release on June 26th 2006 and is available for pre-order now. You can see further details by clicking here.


---
Numan gets Depeche Mode Support Slot Posted Wednesday, May 31
Gary Numan will be a support act for the Depeche Mode concert in Lisbon, Portugal on July 28th. Gary's North American tour has been altered in order to accomodate the show. The tour will now start in Detroit on July 31st. The following shows will either be rescheduled or cancelled... San Francisco, Anaheim, San Diego, Los Angeles, Boulder, Minneapolis, Chicago and Milwaukee.


---
Numan at Guilfest Posted Monday, April 10
Gary Numan has confirmed that he will be playing at the Guilfest 3 day music festival. This family friendly festival takes place between 14th and 16th July in Guildford Surrey. It appears that an 80's night is planned with Aha confirmed as headliners, and Billy Idol another possibility.


---
Jagged Drops from Chart Posted Monday, March 27
Jagged left the official top 200 album chart this week, after its debut placing at Number 59 last week.


---
Jagged at Number 59 Posted Tuesday, March 21
Jagged entered the official album chart at Number 59 this week. The album registered strong sales in the first part of the week, which indicated a possible Top 30 placing, in a poor week for overall album sales. However sales dipped later in the week and Jagged didn't quite manage the 7-8K sales required for a place in the Top 40.


---
Jagged Indie Hit Posted Monday, March 20
Jagged has entered the Top 40 Indie Album chart at Number 3 this week. Numan played the full album live at Saturday Nights Album Launch in London.

The show was well received by fans, and had none of the sound problems that have plagued live Numan shows over the past five years. Numan was told "out front sound was the best it's been for more than 20 years".

Photos and reviews of the show have been posted by fans in the Forum section of AFENet.


---
Electric Picnic Lineup Posted Thursday, March 16
It appears that the Pet Shop Boys, Basement Jaxx and Massive Attack will be joining Gary Numan as headline acts at Stradbally in Co Laois from September 1st to 3rd.


---
Additional Jagged Dates Posted Tuesday, February 14
The following dates have been added to the Jagged tour..

May
1 Bristol Carling Academy
2 Norwich UEA
3 Portsmouth Pyramids
9 Amsterdam, Holland Paradiso
10 Berlin, Germany Maria Am Ostbahnhof
11 Frankfurt, Germany Batschkapp
12 Munich, Germany Kleine Eslterhalle
13 Venice, Italy TBC
14 Turin, Italy TBC
15 Cesena, Italy TBC
16 Zurich, Switzerland TBC
17 Paris, France D-Side
19 Affligem, Belgium Rock Affligem
June
2 London Hammersmith Palais


---
Jagged Tour Dates Posted Wednesday, January 25
Dates for the UK part of the Jagged tour have now been confirmed.

April 19. Birmingham Academy
April 20. Nottingham Rock City
April 21. Wolverhampton Wulfren Hall
April 22. Preston 53 Degrees University
April 23. Newcastle Academy
April 24. Leeds University
April 25. Liverpool Academy
April 26. Glasgow QMU
April 28. Sheffield Leadmill
April 29. Manchester Academy
April 30. Oxford Brookes University


---
Jagged Available for PreOrder Posted Saturday, January 21


The new Gary Numan album, now entitled Jagged is now available to Pre Order at Amazon. The album, Gary's first for over five years is released on March 13th 2006. You can see further details by clicking here.


---
One Off Show Announced Posted Tuesday, October 18
Gary Numan has announced details of a one-off Forum show on Saturday 18th March 2006. He will be appearing in support of his forthcoming new album, Jagged Halo, which is released on March 13th 2006.

The concert, will be recorded and filmed for a future DVD release.
Numan has stated that the concert will feature both material from the new album and subsequent b-sides, although he "may drop a few other songs into the set."

The show will be Numan's first in over 18 months and is set to be recorded and filmed for a future DVD release.


---
LO 80 Out Now Posted Monday, August 01


Living Ornaments 80 is released today, but is proving tricky to find in High Street Record Stores.

The album has also been made available for download on Napster today, and you can sign up for a free 7 day trial by clicking here.


---
LO 80 - The Countdown Posted Monday, July 25
We are just a week away from the biggest Gary Numan release this century, at last, the full version of Living Ornaments 80.
It seems the current best price is 101 CD who are charging a mere £7.99 for this Double CD, you just need to click here for details of the offer.


---
Email - The Numbers Game Posted Sunday, July 24
Gary Numan has been upset by the abusive emails that trickle into NuWorld each week. Gary spent four hours writing a NuWorld announcement stating that he would close down his offical site. Numan then decided that he wouldn't do this as the "abusive and vile few" would have won, and that the vast majority of fantastic and loyal fans would be let down.

Gary then received hundreds, if not thousands of emails in the biggest outpouring of support he has seen for in many, many years.

He has announced that he is now picked up, enthusiastic and back in the studio doing what he is supposed to be doing. Making the best Gary Numan album he can.


---
Killers on Numan Posted Sunday, July 24
The Killers have refuted comparisons with Gary Numan stating "so far, we haven't been compared to anybody who makes us cringe - except for, like, Gary Numan."

When questioned on Numan.. "All I know is `Cars,' so I don't know what part of him they're comparing us to. Everyone else has been OK, though."


---
Cars Tops Chart Posted Tuesday, June 28
Gary Numans's 1980 hit Cars has topped a new US poll of new wave tunes.

As the genre makes a comeback with the likes of THE KILLERS, FRANZ FERDINAND and THE BRAVERY, US magazine Blender has compiled a list of the ultimate hits.

The new top 40 features largely 1980s hits from the likes of MADONNA, A FLOCK OF SEAGULLS, ABC and DURAN DURAN.

The top 10 is:

1. CARS - GARY NUMAN

2. 52 GIRLS - B-52'S

3. WHEN YOU WERE MINE - PRINCE

4. DON'T YOU WANT ME - HUMAN LEAGUE

5. LOVE WILL TEAR US APART - JOY DIVISION

6. HUNGRY LIKE THE WOLF - DURAN DURAN

7. PRETTY IN PINK - THE PSYCHEDELIC FURS

8. OPPORTUNITIES (LET'S MAKE LOTS OF MONEY) - PET SHOP BOYS

9. GOOD TIMES ROLL - THE CARS

10. JUST CAN'T GET ENOUGH - DEPECHE MODE.


---
Pre Order Living Ornaments 80 Posted Sunday, May 29
The Living Ornaments 80 Double CD will be released on 1st August 2005, and is now available for pre order at just £8.99 from Play, just click here for details.


---
LO 80 Release Date Posted Monday, April 18
The long awaited re-release of Living Ornament 80 will be out in July, as soon as Beggars has it on their release schedule an official announcement will be made on the Beggars site.

The so called "Bootleg" recording which goes with the original 10 tracks for Hammersmith 80 in Steve Webbons own words " is more than I ever dared to hope for"...this is no bootleg ..this is a full unheard Teletour recording of a quality that has never been heard before, it has been digital restored and remastered by Shaun Brooks at Dubsounds, and has amazing write up in the sleeve notes by Nigel Lunn of Dead-Heaven ..

"If you only buy one cd this year ..make it LO80 by Gary Numan"...

Beggar will also re-release LO79 and 81 at the same time.


---
Telekon 25th Anniversary Posted Wednesday, March 30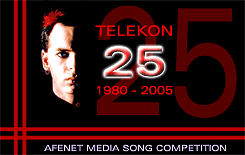 AFENet Forum Members have been taking part in a "Telekon 25" song competition, the task was to create new versions of tracks from the classic Telekon album which sees it's 25th anniversary this year.

You can check out the tracks by Clicking Here. Audio is available in WMA streaming audio or direct MP3 downloads.

You can vote for your favourite in a poll located in the General Store section of the forum.


---
Numan Salutes The Bravery Posted Thursday, March 03
The Bravery have been given the thumbs up by Gary Numan.

Numan was at their sold out gig at London's Koko on 1st March and commented "Every now and again, someone comes along who's got what it takes to stay there. It'll be interesting to see what happens to these guys. There's been an awful lot of mediocre stuff around so I'm glad to see this".


---
Hope Bleeds Released to Retail Posted Friday, February 04
The Hope Bleeds Live DVD, previously only available to fans via NuWorld for £17.63, is now being released to retail stores. The item is available to order for £11.99 incuding delivery at Play Click here for details or if you want to spend a bit more at HMV for £15.99 Click here for details.


---
LO 80 25th Anniversary Posted Tuesday, January 25
Living Ornaments 80 will be released in 2005 as a Special 25th Anniversary edition. The full concert will be remastered using the original album as featured on the Asylum 3 CD interwoven with tracks sourced from top quality bootleg recordings of the show.


---
Q Electronic Special Posted Tuesday, January 25
A 148-page Q collector's edition is now available with four pages devoted to Gary Numan, as well as the complete Depeche Mode story with new interviews, plus David Bowie, The Human League, New Order, Kraftwerk, Japan, Pet Shop Boys, Soft Cell and more....


---
Living Ornaments 80 Posted Monday, January 24
It appears the wait may finally be at an end, sources close to the label have confirmed that the full Living Ornaments 80 concert will be released by Beggars Banquet.

More News as we get it...


---
Mortal is Alive Posted Monday, November 22
Numans new Mortal label has released a Double Live CD and DVD taken from his "One Off" show at Manchester last year. There is still no confirmed release date for his new album "Jagged Halo".


---
Numan confirms Artful Split Posted Friday, August 20
Gary Numan has confirmed that he will not release a new album via Artful Records.

He has also stated that he does not plan to seek another record deal but instead release future material via his own "Mortal" label.

The first planned independent releases are a live DVD and Album plus "bootleg quality" DVD's of every future "one-off" live performance.


---
Artful Deal Falling Apart Posted Saturday, July 10
The relationship between Gary Numan and Artful records appears to be on the verge of disintegration. Gary has published on Nuworld that "Unfortunately there are lots of things happening at Artful in relation to me, all bad".

The Hybrid Vinyl release has been delayed once more, amidst rumours that Artful are refusing to press the 1,000 limited edition due to poor sales. Numan has also revealed that the cancellation of his appearance at the Inland Invasion Festival was partly due to the situation with Artful.

Numan has promised fans that "...I'll give you all the details when it's over and that, hopefully, will be as soon as possible. I think the reasons that have lurked behind the new album delays, and many other things for that matter, will then become more obvious".


---
Inland Invasion Halted Posted Friday, July 02
Numan will not be playing the American Inland Invasion festival in September. The UK September shows will go ahead as normal.


---
London Show Confirmed Posted Thursday, June 03
A London show has been confirmed for September 11th at Shepherds Bush Empire.


---
September Shows Posted Thursday, June 03
Gary Numan will be doing another set of weekender gigs at the start of September.

A show at the Carling Academy in Birmingham is already confirmed for Friday 10th September.


---
Hybrid Mutate Release II Posted Wednesday, June 02
The Mutate DVD disk which formed half of the second "limited edition" version of the Gary Numan remix album Hybrid, is being made available in its own right. This "limited edition" individually packaged DVD, which is only available in a very small quantity, features the promo videos for Crazier, Rip, Cars (Fear Factory version) and Dominion Day, plus live footage.


---
Hybrid Vinyl Delayed Posted Wednesday, June 02
The vinyl edition of the Numan remix album Hybrid has been delayed due to "manufacturing problems". It has been rescheduled for release on June 21st.


---
Work Starts on New Album Posted Saturday, May 29
Sulpher, who worked with Gary Numan on his last album "Pure", seem set to play a major part in his next album "Jagged Halo".

They announced on their web site yesterday that work had just started, and it would be "quite time consuming".


---
Numan CD's Rotting Posted Tuesday, May 25
The Express newspaper has reported bad news for collectors of Gary Numan CD's. It appears that the first Numan CD's made in the late 80's are already showing signs of rotting.

The problem also affects a few other artists including Big Audio Dynamite, Julian Cope and Laurie Anderson.


---
Numan Pulls Satirical Site Posted Saturday, May 22
Yahoo has formally warned a Numan fan for using their web server to host a satirical mock up of the NuWorld front page.

The site, which teased Numan about recent NuWorld stories such as laminated tour passes, new boats, holidays and vinyl re-releases of remix albums was apparently pulled after complaints from Numan management that it infringed upon Nuworld copyright.


---
Another Hybrid Release Posted Friday, May 21
Hybrid, the Gary Numan remix album, is being released again on 31st May. This version is another limited edition with 1,000 copies available. The release is on vinyl and contains a different track listing to the original release, as some tracks are not included.

Sister Ray are currently selling 100 copies on ebay, and Numan is also selling some on his site. You can see further details on the release by Clicking Here.


---
News generated by NewsPro.
eBay Sniper